| | | | |
| --- | --- | --- | --- |
| Product Information | | | |
| Origin | MSK | Rated Voltage | 220V |
| Type | Table Saw | Scope Of Application | Home Renovation |
| Cutting Depth | 45-27 (mm) | Power Type | AC Power |
| Rated Input Power | 800 (W) | Power Cord Length | 2 (m) |
| Saw Blade Size/Diameter | 200*16(mm) | Net Weight | 18 (KG) |
| No-Load Speed | 2950 (rpm) | Series | 8 Inch Woodworking Table Saw |
| | | | |
| --- | --- | --- | --- |
| Rated Voltage | 220V | Rated Frequency | 50Hz |
| Rated Power | 800W | Idling Speed | 2950Rpm |
| Saw Blade Specification | 200X16MM | Working Desk Size | 500X335mm |
| Cutting Depth | 90°(45mm)45°(27mm) | Size | 50x33x23.5 |
Feature:
Multifunctional woodworking table saw, the operating room belt is durable and the cost of consumables is low.
Precise cutting of wood. Can cut all kinds of wood Double ruler design, can cut accurately. Wood and equipped with fixed brackets for easy cutting.
High-power motor anti-burning machine. The strong magnet increases the copper core motor, and at the same time of strong operation, it has over-current overload protection, anti-burning agent and stronger power.
Select the chassis material, light weight and durable. Internal use of high-quality precision circuit board, longer life.
Adjustable cutting depth. Simple and convenient, you can cut various materials of different thicknesses easily and quickly.
Grille air inlet and outlet, fast heat dissipation, longer service life.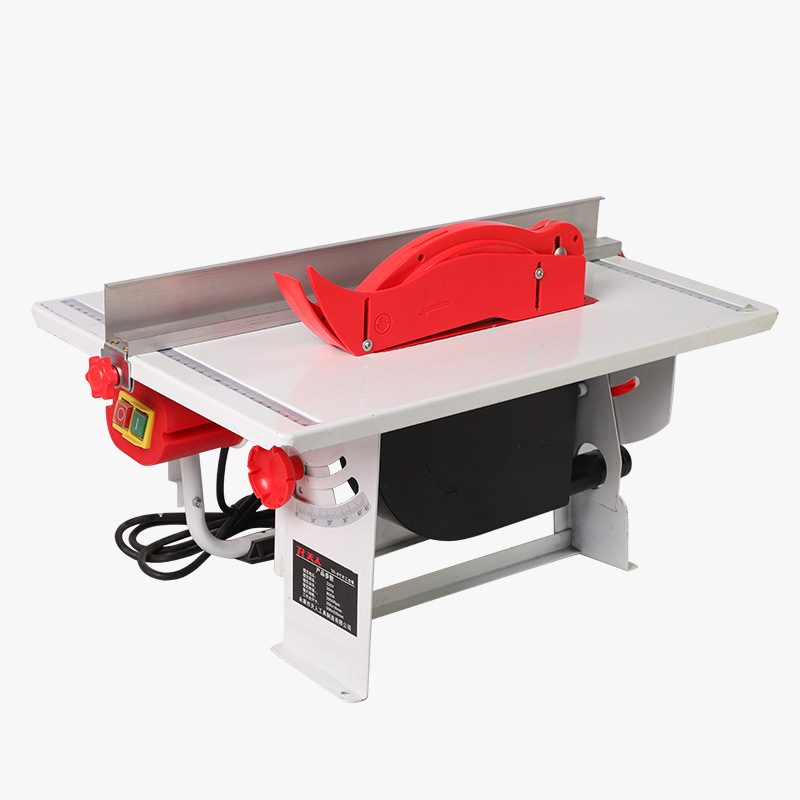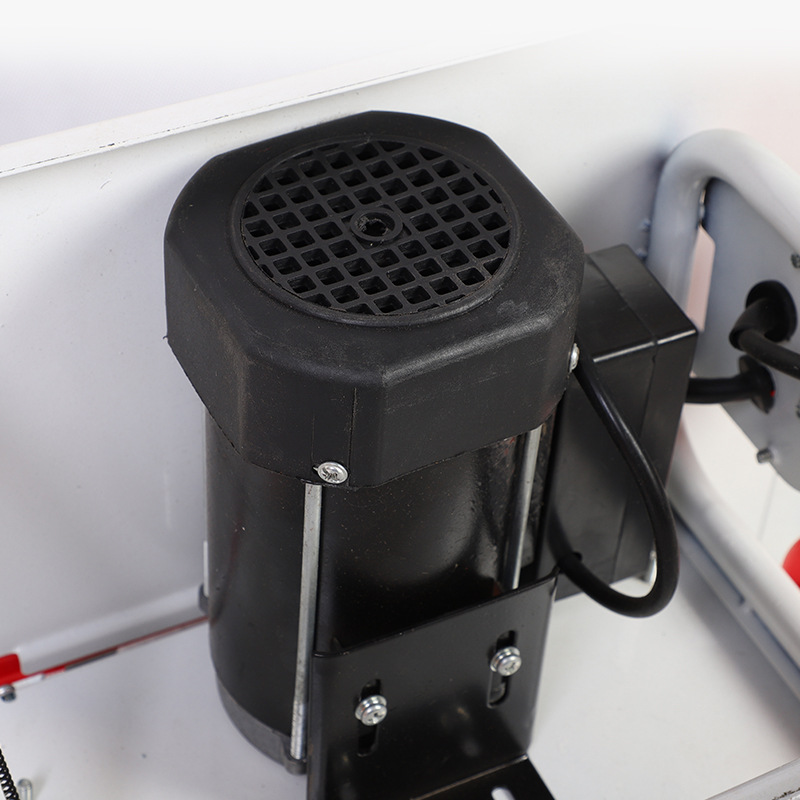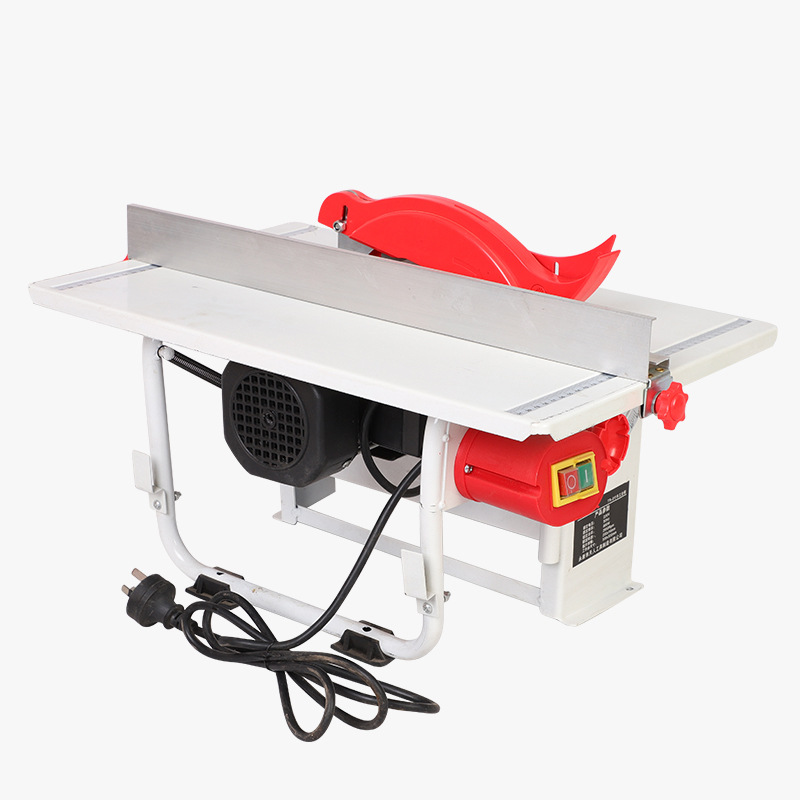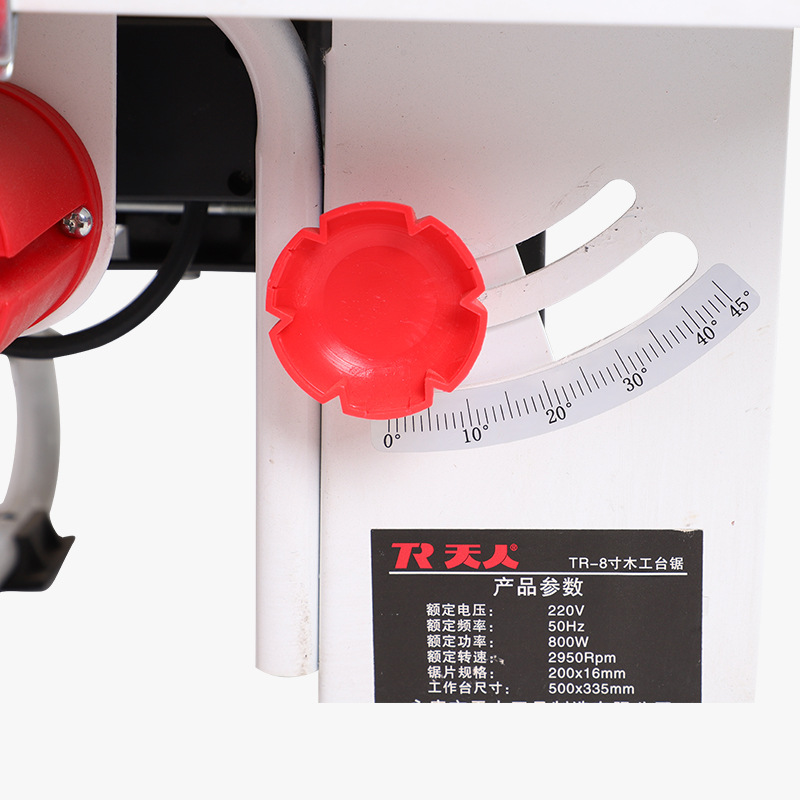 Get ready to step up your woodworking game with one powerful tool: The Multifunctional Woodworking Table Saw will exceed your expectations whether you're a professional or simply an enthusiast! This amazing saw offers unparalleled cutting precision on all types of wood thanks to its incredible double ruler design and high power motor. As if that wasn't impressive enough it also features a durable operating room belt and has minimal consumable costs – ensuring long term use without burning a hole in your pocket. Say goodbye to inaccurate cuts as this saws dual ruler design guarantees precision in every cut you make – be it for complex or simplistic woodworking projects.
The fixed brackets then further optimize the saws performance making it an indispensable tool in your workshop. Its powerful anti burning machine also means jobs are completed easily and efficiently with its strong magnet increasing the copper core motor enhancing the saws overall strength. For those serious about their woodworking the Multifunctional Woodworking Table Saw is a top tier option.
Safety features such as over current overload protection and anti burning agent are integrated to keep both the operator and machine safe. Its durable operating room belt, low consumable cost, high quality materials, and expert craftsmanship make it long lasting and reliable for all your projects. With its powerful motor delivering precise cuts it is perfect for heavy duty use whether at home or on job sites. This table saw is expertly built with select chassis materials that guarantee durability and longevity even with frequent use.
Buying this tool guarantees you quality performance,a long lasting investment in your woodworking goals and the satisfaction of using a tool that delivers what it claims – Precision Power. Who wouldn't want that? Elevate your woodworking projects to a new level with our extraordinary table saw.
This saw boasts a remarkable double ruler design, top-notch fixed brackets, an anti-burning machine, and cost-effective consumables. With these features, you can expect nothing but exceptional performance from this tool.
Hence, why delay? Purchase this remarkable table saw today and unleash your creativity by crafting enduring and splendid woodworking projects.
---
---