| | | | |
| --- | --- | --- | --- |
| Product Information | | | |
| Brand | MSK | Power Type | Rechargeable – Lithium Battery Technology |
| Drill Holding Method | Drill Chuck | Forward And Reverse Direction | About |
| Scope Of Application | For Construction, Decoration, Pan-Furniture, Handmade DIY | Can The Electric Drill Adjust The Speed? | Two-Speed Speed Regulation |
| Voltage | 12 | Battery Power | 1.3 |
| Dimensions | 21*2*20 | Type | Hand Drill |
| Motor Type | Brushed Motor | Rated Voltage Range | AC Single-Phase And DC 50V And Below |
| Standard Accessories | Bare Metal*1, Battery*1, Charger*1, Packing Box*1 | Weight | 1.01 |
| | | | | |
| --- | --- | --- | --- | --- |
| Specifications | No-Load Speed (max) (r/min) | Maximum Torque (Nm) | Maximum Collet Diameter (mm) | Price (yuan) |
| 12V 1 Battery 1 Charging Carton Packaging | 1350 | 19N.m | 10mm | 90 |
| 12V 1 Battery 1 Charge 27pcs Plastic Box Packaging | 1350 | 19N.m | 10mm | 108 |
| 12V 1 Battery 1 Charge 77pcs Plastic Box Packaging | 1350 | 19N.m | 10mm | 152 |
| 12V 1 Battery 1 Charge 107pcs Plastic Box Packaging | 1350 | 19N.m | 10mm | 171 |
| | |
| --- | --- |
| Product Name | Lithium Electric Hand Drill |
| Rotating Speed | 1350R/MIN |
| Torque | 19N.M |
| Rated Voltage | 12V |
| Gear | 18 Gears |
| Clamping Range | 0.8-10MM Drill |
| Charging Time | 90 Minutes |
| Charger Rated Input Voltage | 110V~240V |
| Punching Capability | 40MM (wood) 10MM (iron) |
1.18+1 gear torque adjustment, suitable for a variety of scenarios. The torque gear can be adjusted to an appropriate level according to the work needs. *The larger the gear value, the greater the torque. In order to protect the screw and the workpiece from being damaged, the machine will automatically trip when the corresponding torque gear screw is tightened.
All-copper motor, better efficiency. Using high-performance magnetic tile, pure copper enameled wire. Large torque and high working intensity.
The battery is durable and has a long service life.
Stepless speed change, control the speed at will.
One-key forward and reverse switch. Forward and reverse adjustment buttons, the intelligent emergency brake stops immediately when you release your hand.
Dust-proof, waterproof and drop-proof. Ergonomic soft corner design, using copper wire waterproof coil, plus flame retardant anti-fall material.
High and low two-speed, free switching.
High-precision self-tightening chuck, sturdy and durable. Strong locking force, compatible with multiple accessories, clamping range 0.8-10mm.
LED lighting is powerfully assisted. The LED lighting system started with the motor makes it easy to work in the dark environment.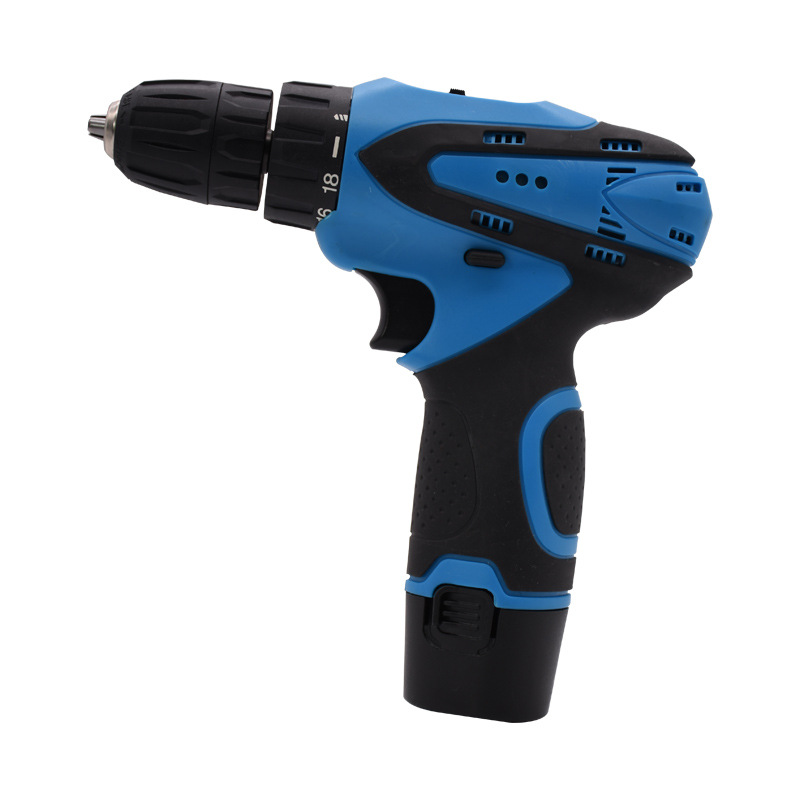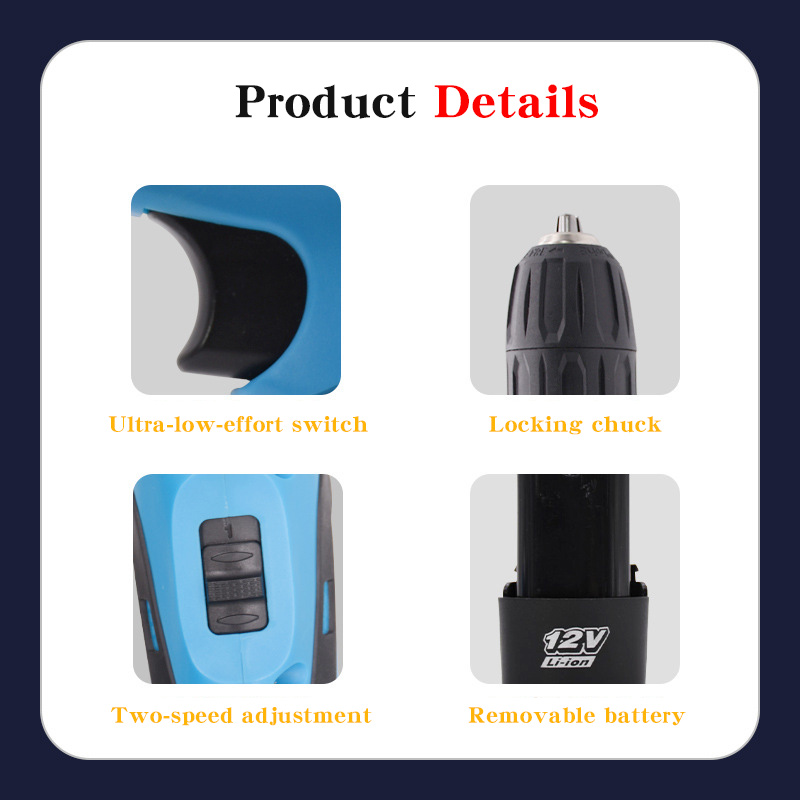 Say goodbye to unreliable power drills that fall short when it comes to torque, power and efficiency – our latest Power Tools Lithium Battery Power Drill Impact Drill has got you covered. Boasting an impressive 1.18+1 gear torque adjustment system this drill can take on any job – whether it be a complex professional construction task or simpler DIY home project – like a pro! You have complete control over adjusting the torque gear as per your requirement; higher gear values mean greater levels of torque generation as needed.
As added reassurance for precision workmanship and enhanced productivity the machine features an automatic tripping mechanism designed to avoid damaging screws or workpieces. The all copper motor in our Power Tools Lithium Battery Power Drill Impact Drill is another highlight worth noting; enabling better overall efficiency rates so you get optimal performance every time you use it! This cutting edge motor technology incorporates high performance magnetic tiles along with pure copper enameled wire providing an unmatchable combination of smooth operation and long lasting reliability. Are you tired of drilling machines compromising on safety or convenience?
Say goodbye to such woes with our latest Power Tools Lithium Battery Power Drill Impact Drill! This exceptional machine offers advanced safety features that reduce injury risks from cord tripping or wire tangling while its lithium battery system ensures powerful and consistent performances without the need for cords. Its ergonomically designed handle keeps user discomfort and strain at bay even when used for long hours while its lightweight build allows easy maneuvering without the usual fatigue of bulkier models. The icing on the cake?
The advanced torque system and all copper motor make this power tool a worthy investment for serious builders and DIY enthusiasts alike! Take a chance and discover for yourself why this product has gained popularity among both seasoned experts and amateur home improvement enthusiasts!
---
Previous:
Belt Machine Floor Sander
---