| | | | |
| --- | --- | --- | --- |
| Product Information | | | |
| Brand | MSK | Maximum Processing Thickness | 80 (mm) |
| Type | Panel Saw | Maximum Processing Width | 1250 (mm) |
| Forms Of Work | Fully Automatic | Total Weight | 600 (kg) |
| Rated Power | 4/5.5 (kw) | Feeding Speed | 4500/6000rpm |
| Dimensions | 3050*1200*1000(mm) | Scope Of Application | Timber Processing |
| Maximum Processing Length | 2800-3200 Can Be Customized (mm) | Rated Voltage | 380v/220v |
| | | | |
| --- | --- | --- | --- |
| Product Name | 45° Panel Saw | Product Number | 90° Panel Saw |
| Push Table Size | 2800/3000/3200*375MM | Push Table Size | 2800/3000/3200*320MM |
| Maximum Cutting Length | 2700/2900/3100MM | Maximum Cutting Length | 2700/2900/3100MM |
| Maximum Cutting Width | 1250MM | Maximum Cutting Width | 1250MM |
| Saw Blade Diameter | 300MM(250-400MM) | Saw Blade Diameter | 300MM(250-400MM) |
| Cutting Thickness Upper Limit | 75MM | Cutting Thickness Upper Limit | 75MM |
| Spindle Speed | 4500/6000R/MIN | Spindle Speed | 4500/6000R/MIN |
| Spindle Diameter | 30MM | Spindle Diameter | 30MM |
| Saw Blade Angle | 0°-45° | Saw Blade Angle | 90° |
| Main Motor Power | 4/5.5KW | Main Motor Power | 4/5.5KW |
| Scribing Saw Diameter | 120MM | Scribing Saw Diameter | 120M M |
| Scribing Saw Speed | 7000-8000R/MIN | Scribing Saw Speed | 7000-8000R/MIN |
| Secondary Shaft Diameter | 20MM | Secondary Shaft Diameter | 20MM |
| Auxiliary Motor Power | 0.75/1.1KW | Auxiliary Motor Power | 0.75/1.1KW |
| Weight | 800KG | Weight | 800KG |
| Dimensions | 3200* 2550*900MM | Dimensions | 3200*2550*900MM |
Reasonable design to widen and thicken the push table. By the die system, the plate cutting makes the running stability good.Feature:
Equipped with the adjustment of the inclination angle of the band saw blade, which is suitable for the cutting of the plate with the inclination angle, and the inclination degree is more accurate.
Double saw blade design, the cutting power is stronger, and the upper limit of rotation speed can reach 8000r/min, which can prevent the plate from bursting.
Widening and thickening the guide rail of the push table, higher precision, more stable cutting, durable and long use time.
Strictly select European-style large scales. Stable to prevent shifting. It can be stretched, the working space is enlarged, and the high precision is maintained.
Using copper core motor, the work is stable. High temperature resistance, strong power, other power motors can be customized.
It is very important for the spindle of the push table saw to run stably and use time. Strictly select high-quality bearings to provide you with a good cutting experience.
Precision panel saw blade, high efficiency and wear resistance, low noise.
Applicable to a variety of plates. Solid wood sandwich panel, MDF, multi-layer board, particle board, ABS board, PVC board, acrylic board, plexiglass board, etc.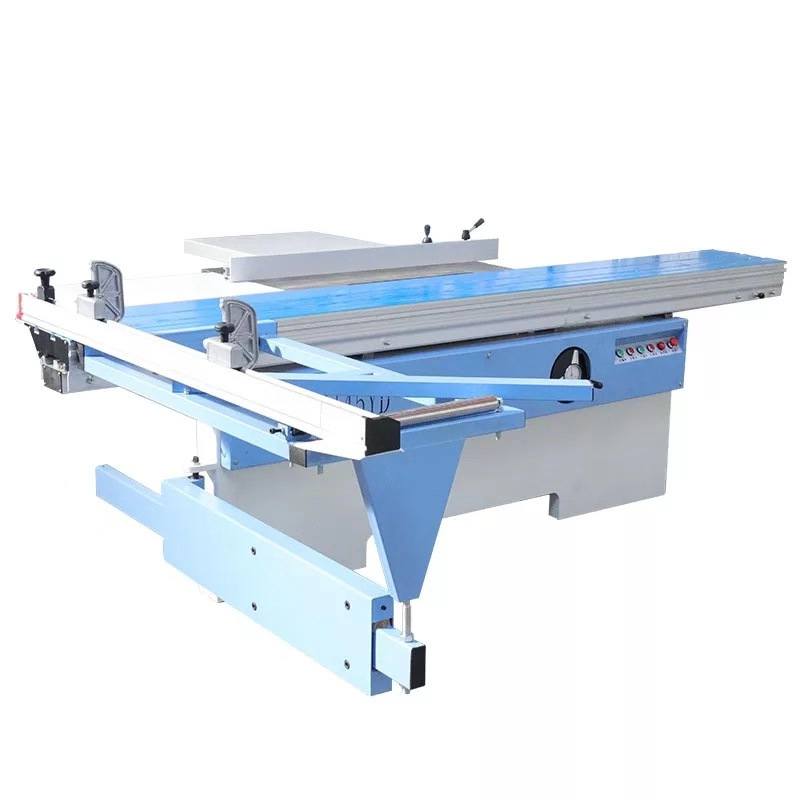 ---
---