| | | | |
| --- | --- | --- | --- |
| Product Information | | | |
| Brand | MSK | Work Pressure | 30bar |
| Material | ABS | Flow | 3L/min |
| Outlet Pipe Length | 5 Meters | Weight | 2.5kg |
| Power Cord Length | Charger 1 Meter | Power | 180W/360W |
| Power Source | Lithium Battery | Size | 38.5*7.5*22.5cm |
| Voltage | 24V/48V | Net Weight | 1.5kg |
1.Intelligent switch, 3 seconds fast water discharge. Press to start, release to stop, no need to turn off the faucet or machine.Feature:
2.14 The plunger pump head has stronger performance, less vibration and quieter, and the water flow is no longer intermittent.
There is no need to connect the faucet, and there is water to wash it under high pressure. Portable self-absorption design, fast water absorption, powerful pressure accumulation, flexible water intake.
Large-capacity lithium battery, long-lasting battery life. 2 hours to fill up quickly.
Strong power is cleaner, different nozzles are used for multiple purposes, and multi-angle spraying.
Wireless flushing, free to clean anytime, anywhere. Wireless lithium battery design, easy to carry. It has a wide range of functions and is suitable for use in various outdoor scenes.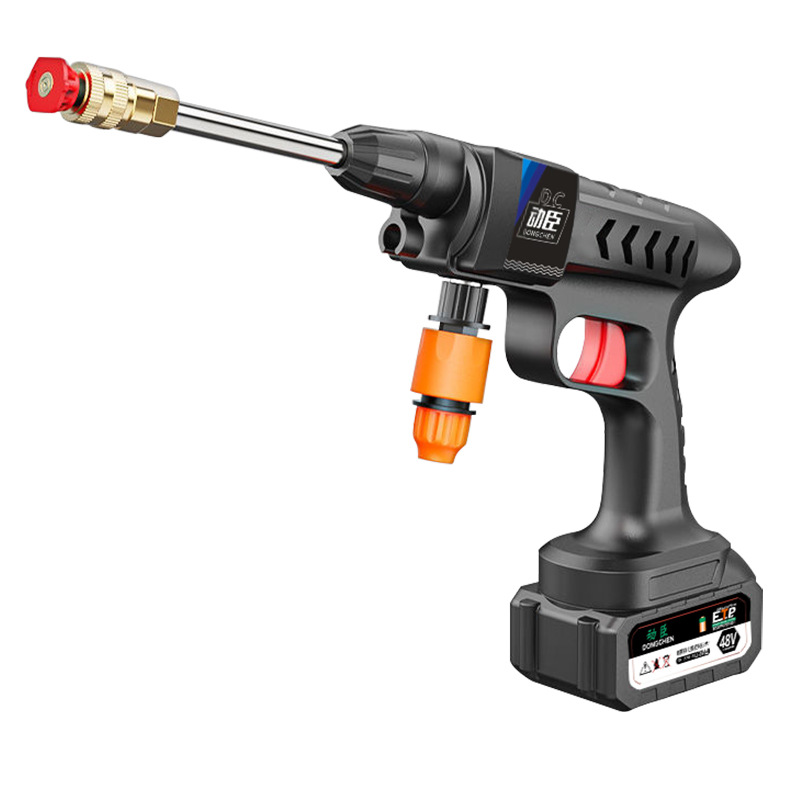 Take your cleaning to a whole new level with our latest high-pressure water gun! Boasting an innovative design that combines intelligence with cutting-edge technological advancements. You won't believe how much easier it is to take care of those tiresome cleaning jobs. Equipped with an intelligent switch mechanism that ensures rapid three-second fast-water discharge.
This incredible feature makes every task swift and efficient without stopping your work progress thanks to its easy press and release function – no need for faucet or machine shut-off!
The 14 plunger pump head has been engineered for superior performance delivering exceptional power while remaining vibration-free and whisper-quiet during operation ensuring less fuss and more comfort as well as smoother flow of water output when compared to other market-leading models, removing frustration caused by broken and intermittent water flow. Not only does this high-pressure gadget offer exceptional engineering it's versatile too! Providing all-in-one capabilities that require no external connections or hoses, making it perfect for washing cars, outdoor furniture or rinsing off patio areas.
Plus its self-absorption features enable it to quickly produce powerful pressure through flexible water intake. Furthermore, forget about battery failures thanks to the large-capacity lithium battery guaranteeing unbeatable power during each cleaning session. With hours of continuous use from an easily charged battery via USB cable the high pressure water gun is an ideal cleaning tool for those seeking efficiency and power alike.
Both its design and performance have been expertly crafted to ensure reliability under pressure – whether thats from dirt on dishes while camping or mud on outdoor gear. And despite its powerful capabilities this water gun is also extremely user friendly: no special knowledge needed! If you're tired of traditional cleaning methods that require extra effort and time without delivering fast results – its time to try this innovative solution. Eliminate even the most stubborn grime and dirt with ease and efficiency using our high pressure water cleaning product.
Witness the remarkable speed at which it works and be blown away by its effectiveness. Order yours today to see the magic unfold before your eyes.
---
Previous:
Wookworking Tool Electric Hand Planer
---