| | | | |
| --- | --- | --- | --- |
| Product Information | | | |
| Brand | MSK | With Or Without Clutch | Yes |
| Scope Of Application | Home, Decoration, Engineering | Weight | 3 |
| Rated Voltage Range | AC Single-Phase And DC 50V And Below | Battery Power | 6 |
| Hammer Mode | 3-Speed Mode-Hammer Drilling/Flat Drilling/Chiseling | Type | Two Pits And Two Slots |
| Power Type | Rechargeable – Lithium Battery Technology | Voltage | 110 |
| Optimum Drilling Range | 14 | Standard Accessories | Battery, Charger, Grip, Ruler |
| | | | | |
| --- | --- | --- | --- | --- |
| Model | Single maximum hammering force (J) | Maximum Drilling Diameter (Concrete) (mm) | Hammer frequency (/min) | Price (yuan) |
| Extreme brushless three-purpose electric hammer 528TV [one electricity] + plastic box | 2.1 | 26 | 6200 | 398 |
| Industrial brushless three-purpose 398TV [one electricity] + plastic box | 2.1 | 26 | 6200 | 328 |
| Respectful bare metal (this head does not include charger battery) Dayi battery is universal | 2.1 | 26 | 6200 | 218 |
*All battery voltages of this product are DC 21V
battery capacity
20.0Ah
25.5Ah
30.0Ah
37.5Ah
Battery parameters
10 sections 2000mAh
15 sections 1800mAh
15 sections 2000mAh
15 sections 2500mAh
Long-lasting battery life with large capacity
Long-lasting battery life with large capacity
Long-lasting battery life with large capacity
Long-lasting battery life with large capacity
No-load battery life
400min
540min
600min
750min
feature:
Brushless and no spark. Higher speed, more torque. No heat, no need to replace carbon brushes, long life, 8-12 years. Steel pipe steel plate, easy to cut and grind.
One machine is multi-purpose to meet the various needs of users. Electric drill mode, powerful drilling (requires drill chuck). Electric hammer mode, higher drilling efficiency than AC electric hammer. Small function, install flat chisel, adjustable direction. Electric pick mode, water and electricity slotting, handy.
Electric pick, hammer and electric drill can be switched freely. Time left to change tools and improve work efficiency.
Increase the hammering cylinder to replace the traditional plug-in electric hammer. Precision large-diameter cylinder, vacuum quenched, firm and durable. Strong impact, higher efficiency.
Using 2500mAh 10C power lithium battery. Long-lasting lithium battery, fast charging and long-lasting power.
Safe clutch, automatic tripping without hurting hands. When the drilled wall hits the steel bar, it will automatically stop for protection. High wear-resistant alloy just now, super long life without failure.
The alloy gears increase the module and do not slip the teeth. The tooth carburizing and quenching process is better than the ordinary high temperature quenching process.
Stainless steel chuck, fast installation, firm clamping, prevent the drill bit from falling during operation.
1) Pinch the protective cover as shown in the picture, press down firmly and keep it still
2) Align the drill bit/point chisel/flat chisel with the mounting hole and insert it to the end
3) Loosen the protective cover and pop up to reset at the same time that the chuck is locked
Continuously variable speed switch, the speed changes with the pressure. Forward and reverse adjustment buttons, the intelligent emergency brake stops immediately when you release your hand. Turn it clockwise to the left, the middle is stuck and does not turn, and turn it counterclockwise to the right.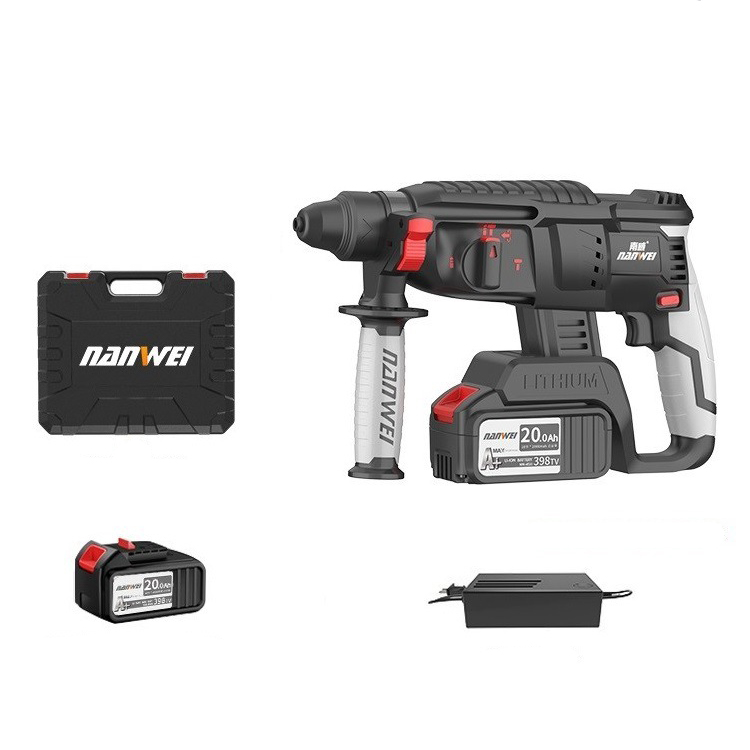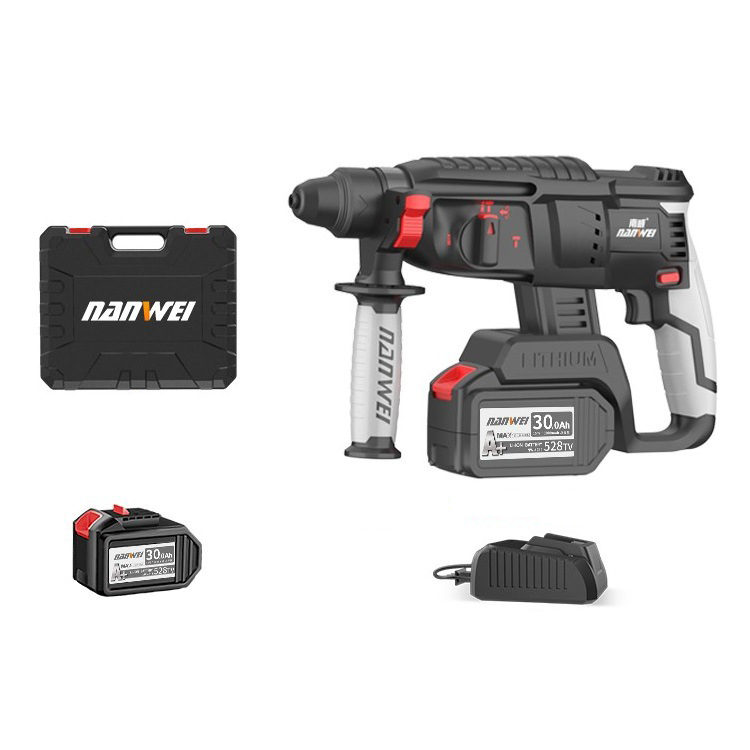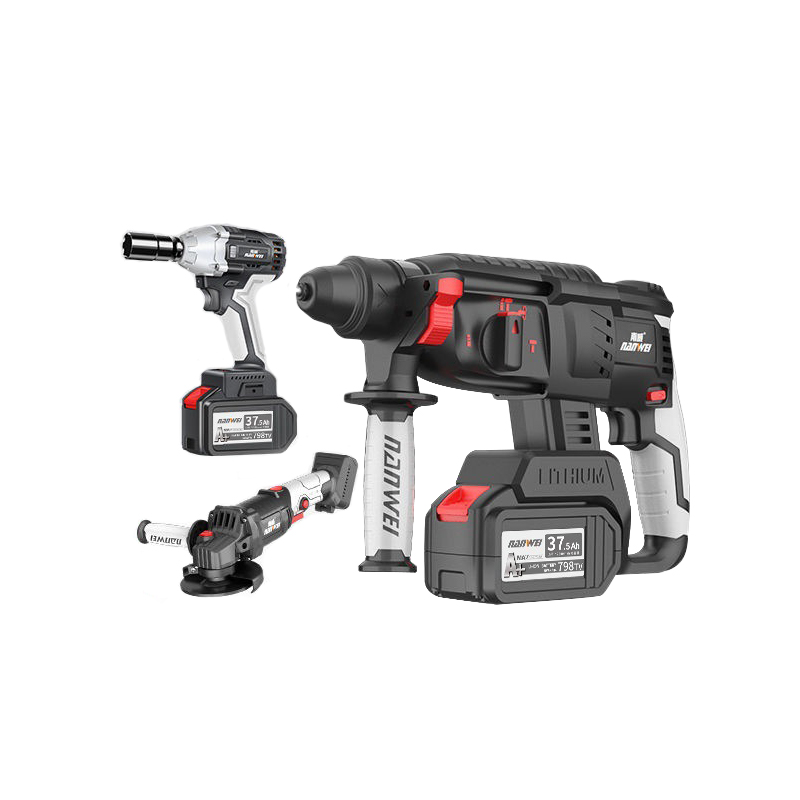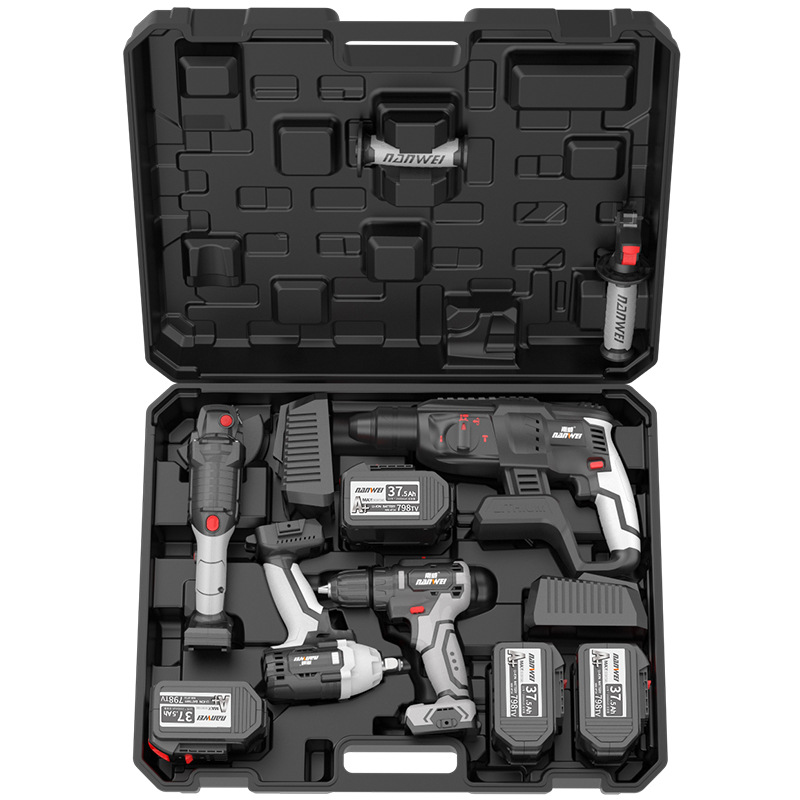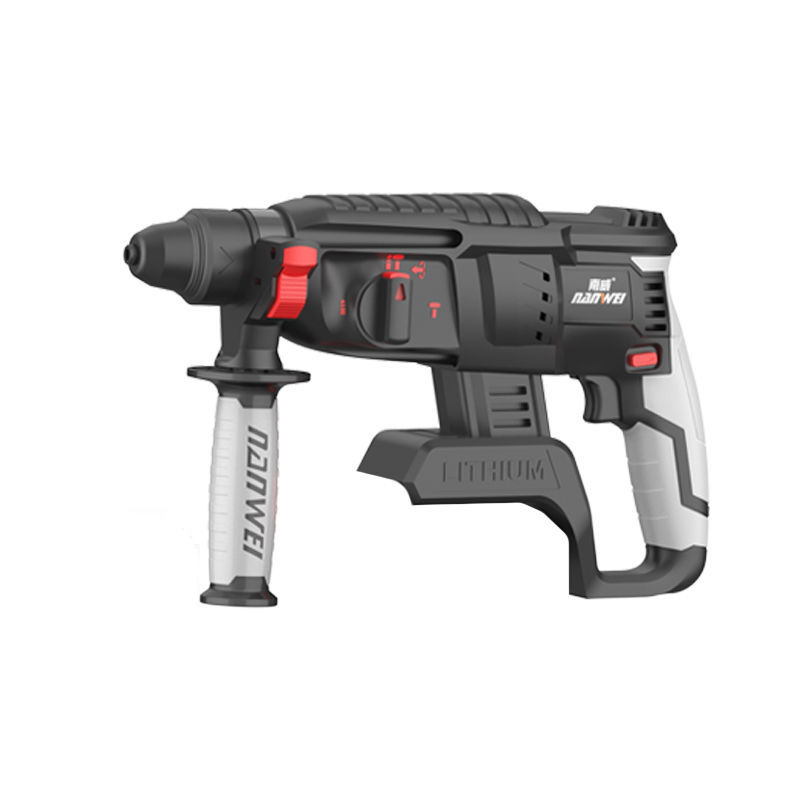 ---
---