| | | | |
| --- | --- | --- | --- |
| Product Information | | | |
| Brand | MSK | Voltage | Twenty Four |
| Battery Power | 2000 | Standard Accessories | Guide Chain |
| Scope Of Application | Pruning, Logging, Cutting | Power Type | Rechargeable – Lithium Battery Technology |
| Rated Voltage Range | AC Single-Phase And DC 50V Above 250V And Below | Power Cord Length | 1.5 |
| | | | | | | |
| --- | --- | --- | --- | --- | --- | --- |
| Specification | Rated Power (W ) | Saw Chain Speed ( m/min ) | Blade Length (mm) | Guide Length (mm) | Saw Chain Material | Price (yuan) |
| 6 Inch (US Standard) 24V, One Battery And One Charge | 550 | 1 | 180 | 180 | Steel | 108 |
| 6 Inch (European Standard) 24V One Battery And One Charge | 550 | 2 | 180 | 180 | Steel | 108 |
| 6 Inch (UK Standard) 24V One Battery And One Charge | 550 | 3 | 180 | 180 | Steel | 108 |
| 6 Inch (Austrian Standard) 24V One Battery And One Charge | 550 | 4 | 180 | 180 | Steel | 108 |
| 4 Inch (US Standard) 24V, One Battery And One Charge | 550 | 9 | 180 | 180 | Steel | 108 |
| 4 Inch (European Standard) 24V One Battery And One Charge | 550 | 10 | 180 | 180 | Steel | 108 |
| 4 Inches (UK Standard) 24V, One Battery And One Charge | 550 | 11 | 180 | 180 | Steel | 108 |
| 4 Inch (Australian Standard) 24V, One Battery And One Charge | 550 | 12 | 180 | 180 | Steel | 108 |
| | | | |
| --- | --- | --- | --- |
| Product Name | Mini Chainsaw | Product Voltage | 24V |
| Motor Power | 300W | Guide Length | 5 Inch |
| Chain Speed | 5M/S | Motor Speed | 15000 rpm |
| Total Weight | 1.16kg | Chain | Quick Adjustment |
Feature:
Multi-purpose machine, easy logging. Orchard pruning and chopping wood, wood cutting.
Lightweight body, women can also operate with one hand. Small size, easy to carry, and effortless to work for a long time. (The bare metal weighs 0.67kg, including the guide plate chain)
Adopt high-performance motor, high power and strong power. Long load does not burn the machine, the peak power is 300w.
It only takes 10 seconds to cut a 15 cm tree. Smooth and stable without stuttering or shaking.
Large-capacity lithium battery, wireless bondage. Great battery life and long battery life.
Alloy guide plate + quenching chain, sharp, wear-resistant and high hardness. Seiko one-piece forging, no deformation or breakage. 5-inch guide plate with needle roller sprocket 12cm long.
Widen the hand guard to ensure cutting safety. Protect your fingers from flying debris.
ABS high-strength box, double the cost and double the safety. No matter the cost, the high-hardness cabinet is used, and the quality is guaranteed.
Overload protection, intelligent circuit control panel design, to ensure safety and meet different construction needs.
Continuously variable speed switch, the speed can be easily controlled. The cutting speed slows down as you press harder.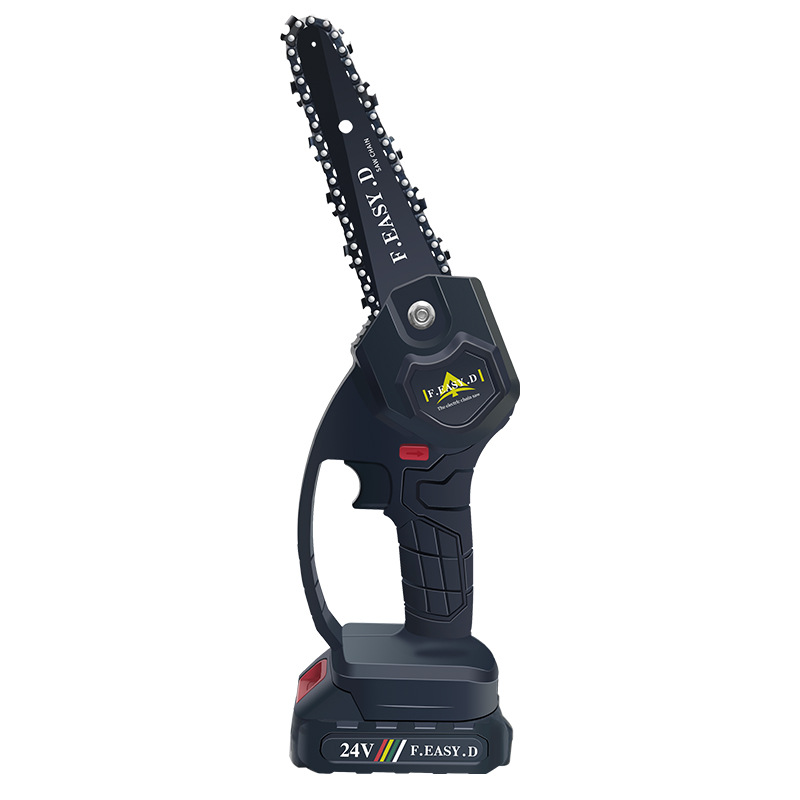 ---
Post time: 2022-05-11