| | | | |
| --- | --- | --- | --- |
| Product Information | | | |
| Brand | MSK | Voltage | Twenty Four |
| Battery Power | 2000 | Standard Accessories | Guide Chain |
| Scope Of Application | Pruning, Logging, Cutting | Power Type | Rechargeable – Lithium Battery Technology |
| Rated Voltage Range | AC Single-Phase And DC 50V Above 250V And Below | Power Cord Length | 1.5 |
| | | | | | | |
| --- | --- | --- | --- | --- | --- | --- |
| Specification | Rated Power (W ) | Saw Chain Speed ( m/min ) | Blade Length (mm) | Guide Length (mm) | Saw Chain Material | Price (yuan) |
| 6 Inch (US Standard) 24V, One Battery And One Charge | 550 | 1 | 180 | 180 | Steel | 108 |
| 6 Inch (European Standard) 24V One Battery And One Charge | 550 | 2 | 180 | 180 | Steel | 108 |
| 6 Inch (UK Standard) 24V One Battery And One Charge | 550 | 3 | 180 | 180 | Steel | 108 |
| 6 Inch (Austrian Standard) 24V One Battery And One Charge | 550 | 4 | 180 | 180 | Steel | 108 |
| 4 Inch (US Standard) 24V, One Battery And One Charge | 550 | 9 | 180 | 180 | Steel | 108 |
| 4 Inch (European Standard) 24V One Battery And One Charge | 550 | 10 | 180 | 180 | Steel | 108 |
| 4 Inches (UK Standard) 24V, One Battery And One Charge | 550 | 11 | 180 | 180 | Steel | 108 |
| 4 Inch (Australian Standard) 24V, One Battery And One Charge | 550 | 12 | 180 | 180 | Steel | 108 |
| | | | |
| --- | --- | --- | --- |
| Product Name | Mini Chainsaw | Product Voltage | 24V |
| Motor Power | 300W | Guide Length | 5 Inch |
| Chain Speed | 5M/S | Motor Speed | 15000 rpm |
| Total Weight | 1.16kg | Chain | Quick Adjustment |
Feature:
Multi-purpose machine, easy logging. Orchard pruning and chopping wood, wood cutting.
Lightweight body, women can also operate with one hand. Small size, easy to carry, and effortless to work for a long time. (The bare metal weighs 0.67kg, including the guide plate chain)
Adopt high-performance motor, high power and strong power. Long load does not burn the machine, the peak power is 300w.
It only takes 10 seconds to cut a 15 cm tree. Smooth and stable without stuttering or shaking.
Large-capacity lithium battery, wireless bondage. Great battery life and long battery life.
Alloy guide plate + quenching chain, sharp, wear-resistant and high hardness. Seiko one-piece forging, no deformation or breakage. 5-inch guide plate with needle roller sprocket 12cm long.
Widen the hand guard to ensure cutting safety. Protect your fingers from flying debris.
ABS high-strength box, double the cost and double the safety. No matter the cost, the high-hardness cabinet is used, and the quality is guaranteed.
Overload protection, intelligent circuit control panel design, to ensure safety and meet different construction needs.
Continuously variable speed switch, the speed can be easily controlled. The cutting speed slows down as you press harder.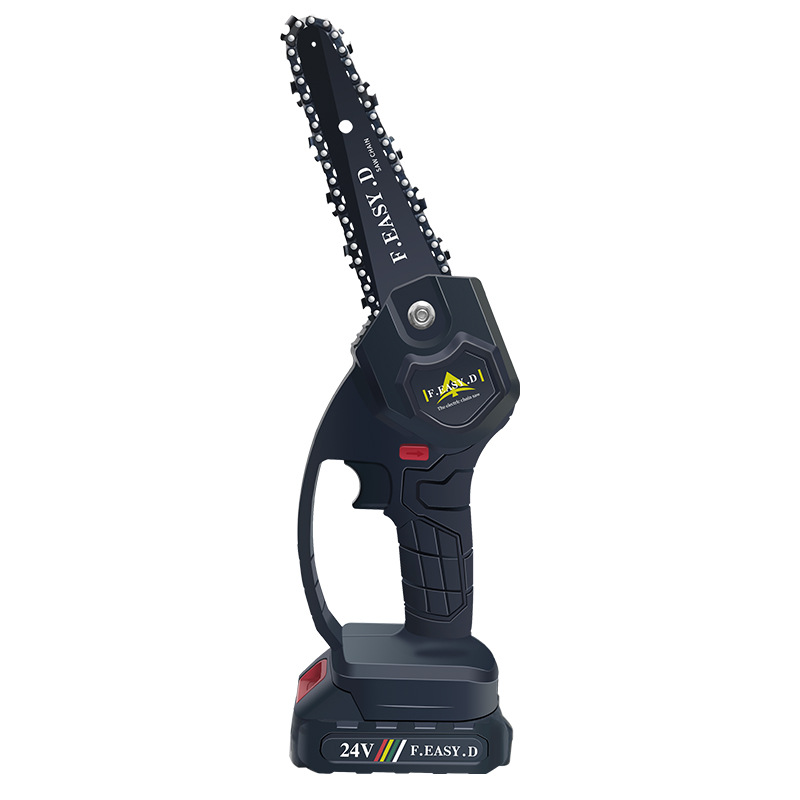 Its with great pleasure we announce our latest innovation in the cutting and pruning equipment department- the battery powered cordless chainsaw! Our multi functional device was created to transform logging, orchard pruning, and woodcutting activities into efficient endeavors like never before! With a lightweight design that permits women to effortlessly manage it with one hand our product surpasses competition in every aspect of efficiency! Its compact profile and effortless function make it an excellent tool for long periods without causing discomfort or physical exhaustion.
Weighing in at only 0.67kg including guide plate chain- makes it one of the lightest tools on todays market! However- don't let its small stature fool you; our chainsaw comes equipped with an extraordinary high performance motor that peaks at 300w. This level of power means even prolonged tasks won't exhaust the machine due to its outstanding work ethic! Additionally its smooth and steadfast operation eliminates any jolts or convulsions while cutting materials you can easily work without discomfort! Finally our speedy and accurate chainsaw will revolutionize your experience! Want to prune or cut down a 15cm tree in just 10 seconds? Let us introduce you to our product! Its the ideal solution for anyone looking for an efficient tool that can quickly accomplish their pruning and cutting tasks.
Our cordless chainsaw is powered by a rechargeable battery – making it ideal for outdoor enthusiasts who desire freedom from cords or noise from gas powered saws. With our item gain all of the power you need without any inconvenience caused by fumes or fuss. From trimming fruit trees in your orchard to cutting firewood in your backyard – this chainsaw will always be there when you need it most! Due to its weightlessness nature of body, high performance motor and fast speed of cutting – its perfect whether you're a professional or DIY enthusiast! We encourage you to give our product a test run today to experience its advantages firsthand.
This will provide you with an opportunity to witness its impact and assess its suitability for your requirements.
---
Previous:
4.2V Electric Screwdriver Set
---